Results-driven Internet Marketing in Westlake Village
---
Looking to partner with an award-winning digital marketing agency that provides results-driven Internet marketing in Westlake Village?
Sachs Marketing Group is a full-service Internet marketing company in Westlake Village that offers SEO, social media marketing, and cost-effective digital marketing services that drive traffic, attract customers, and produce results that help increase revenue for our clients.
When you make our Westlake Village internet marketing company part of your team, you make work easier, With over a decade of Internet marketing experience and a team of in-house SEO specialists, social media specialists, paid ad specialists, developers, copywriters, and designers, you can rest assured your business is in the best hands.
Learn how our Westlake Village internet marketing company can help your business today – request a free proposal.
If you want to increase the visibility of your website online, attract more traffic, and earn more revenue, we can help. Contact us online or call 818-889-3232 to speak with Eric Sachs.
SACHS MARKETING GROUP IS A TOP WESTLAKE VILLAGE INTERNET MARKETING COMPANY
---
Founded by Eric Sachs in 2010, Sachs Marketing Group has become one of the most trusted and effective Internet marketing companies in Westlake Village, California. We go above and beyond the competition in many ways – we deliver on our promises, prioritize client retention, provide transparency, and achieve real results that matter to your business.
In 2022, we helped drive 30,245 leads!
Discover how our digital marketing services can help your business today! If you're not sure which services are best for your business goals, contact us online or call 818-889-3232 to speak with a digital marketing strategist.
LOCAL SUCCESS
Sachs Marketing Group has partnered with numerous local businesses in Westlake Village to help them grow with digital marketing. We've helped to implement campaigns including SEO, PPC, social media marketing, and beyond.
Sachs Marketing Group Westlake Village
950 Hampshire Rd. Suite 104
Westlake Village, CA 91361
818-889-3232
WHY MAKE SACHS MARKETING GROUP YOUR
WESTLAKE VILLAGE INTERNET MARKETING COMPANY?
---
As you explore your options in search of the best Westlake Village Internet marketing company, you want to ensure you're partnering with the right one. If you're looking to get the best digital marketing services for your business, look no further than Sachs Marketing Group.
Transparency
We provide transparent expectations and reporting so you never feel like you're in the dark. We aim to develop positive relationships with our clients, and we believe providing transparency helps you make more informed decisions.
Satisfaction
We deliver on our promises, provide results, and prioritize client satisfaction in every way possible. We've never had a complaint, dispute, or credit card chargeback regarding our services or pricing, and continue to attract 5-star reviews.
Commitment
We're committed to your internet marketing campaign as a partner. Your success is our success! We focus on client retention, not client acquisition. That's why our very first client from 13+ years ago still trusts us with their campaign.
Expertise
Gain access to a team of digital marketing experts that can help strategize, launch, and manage your campaign. Our team specializes in numerous fields, including SEO, PPC, social media, reputation management, and more.
Support
Whether there's an urgent matter in need of attention, you have a question, or just want to chat, Sachs Marketing Group provides responsive communication and support needed to move forward quickly.
Experience
From small start-ups and family-run mom-and-pop shops to Fortune 500 companies and the military, Sachs Marketing Group has a wide range of experience working with a variety of companies.
Synergy
Our team of digital marketing experts will collaborate with your team to create the synergy needed to keep things running smoothly. We also collaborate internally to ensure your campaign is successful.
Knowledge
Our team of experts keeps its fingers on the pulse of the industry so you don't have to. This allows us to adopt and integrate the latest trends & technology into your digital marketing campaign.
RATINGS & REVIEWS
---
Don't take our word for it! Explore our latest ratings and reviews to discover why business owners trust Sachs Marketing Group for their digital marketing needs.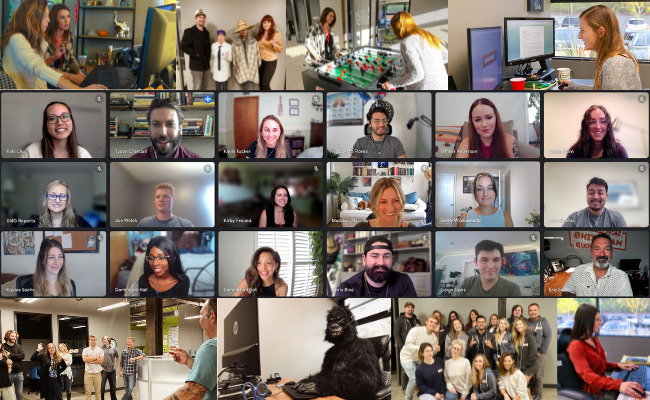 HOW CAN SACHS MARKETING GROUP HELP YOU?
We can help you cut through the competition and achieve your goals. Whether you want to redesign your website, increase traffic, attract more social media engagement, launch targeted ads, or generate more leads, Sachs Marketing Group is the all-in-one digital marketing agency with the expertise, commitment, and experience needed to succeed.
Our team of in-house marketing experts can help create, launch, and manage an Internet marketing campaign designed to achieve your specific goals.
818-889-3232
LAUNCH A WESTLAKE VILLAGE INTERNET MARKETING STRATEGY TO SKYROCKET YOUR SUCCESS
---
Are you ready to launch an Internet marketing strategy that increases website traffic, attracts social media engagement, and grows your customer base?
Sachs Marketing Group specializes in creating and managing effective digital marketing campaigns that will drive targeted traffic to your website, generate leads, and ultimately boost your revenue. Our expert team employs cutting-edge strategies, such as search engine optimization (SEO), pay-per-click (PPC) advertising campaigns, and social media marketing, to elevate your brand's online presence and attract your ideal customers.
Imagine your business flourishing as new clients discover your products and services through a well-executed internet marketing campaign, turning casual visitors into loyal customers. Sachs Marketing Group's tailored approach ensures that your Internet marketing efforts are optimized for maximum impact, resulting in a significant return on investment and long-term business growth.
Discover how Sachs Marketing Group can help create & manage an effective digital marketing campaign designed to outperform your competitors and grow your business.
100% Client Satisfaction Score
Industry average: 69% (2023)
"We've been through a lot of digital agencies and can say that Sachs Marketing Group is the best in the business. Over the years, Eric and his team have been instrumental to our company's growth." – Kaveen
SEARCH ENGINE OPTIMIZATION (SEO)
---
Search Engine Optimization (SEO) is the process of enhancing a website's visibility and ranking on search engine results pages by implementing various strategies and techniques to improve its relevance and appeal to both users and search engine algorithms.
Optimizing your website can help improve your company's visibility in search results, attract more traffic to your website, and increase leads. When you partner with a Westlake Village SEO company, like Sachs Marketing Group, we start by first conducting thorough keyword research and competitor analysis to identify opportunities and establish a solid foundation for optimization. They then develop a comprehensive, tailored strategy, addressing on-page, off-page, and technical SEO factors, to improve the website's search engine rankings, increase organic traffic, and drive desired results.
For example, a hair salon in Westlake Village can use SEO to increase the visibility of its website by targeting relevant local keywords such as "Westlake Village hair salon" or "haircuts in Westlake Village." By optimizing their website content, meta titles, and descriptions with these location-specific keywords, they improve their chances of ranking higher in search results for users in their area. Furthermore, focusing on local SEO strategies, like claiming and optimizing their Google Business Profile listing and obtaining positive customer reviews, will not only drive more traffic to their website but also attract local customers interested in their services. This targeted approach will help the salon become the go-to choice for hair services within the Westlake Village community.
The financial investment required for SEO can vary significantly based on the size of the company, the competitiveness of the industry, and the specific goals of the business. However, the potential return on investment (ROI) for SEO is often substantial, as it drives targeted organic traffic to your website, leading to increased visibility, higher conversion rates, and long-term growth. Companies of all sizes, from small local businesses to large corporations, can benefit from investing in SEO, as it levels the playing field in the digital landscape, allowing them to compete effectively and attract their desired audience.
SOCIAL MEDIA MARKETING
---
Social media marketing is the strategic process of leveraging various social media platforms to create and share content, engage with audiences, and promote products or services, ultimately driving brand awareness and customer engagement.
Social media marketing provides businesses with the opportunity to establish a strong online presence and engage directly with their target audience, fostering trust and loyalty. By sharing valuable, relevant content, companies can increase brand awareness and reach potential customers more effectively than through traditional marketing channels. Additionally, social media marketing offers valuable insights into customer behavior and preferences, enabling businesses to refine their strategies and create more personalized experiences that drive growth and success.
For example, a local bakery can use social media marketing to boost its brand visibility and customer engagement by regularly posting organic content showcasing its delectable baked goods, sharing behind-the-scenes footage of the baking process, and hosting live Q&A sessions with the head baker. Additionally, the bakery can invest in paid social advertising to target potential customers within their vicinity, using eye-catching visuals and promotional offers, such as discounts or limited-time specials, to entice new patrons to visit the bakery and try their delicious treats.
A professional social media marketer starts and manages a campaign by first setting clear goals and objectives tailored to the client's needs. They then develop a comprehensive content plan, encompassing both organic and paid strategies, to engage the target audience and drive desired results. Throughout the campaign, the marketer tracks key performance metrics, adjusting strategies as needed to optimize outcomes and ensure success.
The ROI of social media marketing can vary significantly based on factors such as the industry, target audience, platform, content strategy, and ad spending. The ROI for organic social media efforts typically takes longer to materialize, as building an engaged audience requires consistent, high-quality content and interaction with followers over time.
Paid social media campaigns, on the other hand, can yield more immediate results, with some studies suggesting ROIs ranging from 2:1 to 5:1, meaning that for every dollar spent, businesses might generate two to five dollars in revenue. However, these figures are not guaranteed and can fluctuate based on the effectiveness of the campaign and the competitiveness of the market.
Ultimately, the ROI of social media marketing depends on the quality of the strategy, the relevance of the content, and the ability to target and engage the right audience. Businesses should continuously monitor and optimize their social media efforts to achieve the best possible results.
PAY PER CLICK (PPC) ADVERTISING
---
Pay-per-click (PPC) advertising is a digital marketing strategy in which advertisers pay a fee each time their ads are clicked by users. Typically, it involves placing sponsored ads on search engines, social media platforms, and other websites to drive targeted traffic to a desired webpage or product. PPC ads are typically created using keyword research to ensure they appear in relevant search results or to a specific audience. Advertisers bid on keywords or placements, and the highest bidder's ad gets displayed. This model offers cost-effective, measurable, and immediate results, allowing businesses to optimize their ad campaigns based on performance metrics such as click-through rates, conversions, and return on investment.
PPC advertising offers numerous benefits for business owners, including the ability to target specific audiences and demographics effectively. This ensures that ads reach potential customers who are most likely to be interested in their products or services. Additionally, PPC campaigns provide immediate visibility in search results, which can help businesses gain a competitive edge in saturated markets. With its budget flexibility, business owners can control and adjust their spending to achieve desired results. Furthermore, PPC advertising delivers measurable results, allowing businesses to track and analyze the performance of their campaigns and make data-driven decisions to improve their return on investment. This marketing approach can also help increase brand awareness and drive quality traffic to a company's website, ultimately boosting sales and revenue.
For example, a barber in Westlake Village could effectively use PPC advertising to reach more customers by targeting specific keywords and demographics in their local area. The barber could create a Google Ads campaign focusing on keywords such as "Westlake Village barber," "haircut Westlake Village," and "men's grooming Westlake Village." They could also set up location-based targeting to ensure their ads are displayed primarily to users within Westlake Village or nearby areas.
The return on investment (ROI) of PPC advertising is a crucial metric that helps businesses evaluate the effectiveness of their ad campaigns by comparing the revenue generated to the costs incurred. A higher ROI indicates a more successful campaign, as it demonstrates that the revenue earned from the ads significantly outweighs the expenses, making PPC a profitable marketing strategy.
WEB DESIGN
---
Within a digital marketing campaign, web design plays a crucial role in creating an attractive, user-friendly, and responsive online presence for a brand or business. It encompasses the aesthetic aspects, user experience, and functionality of a website, ensuring that it effectively communicates the brand's message, engages visitors, and ultimately drives conversions and customer retention.
Working with a professional to create a modern web design for your business offers several benefits, such as leveraging their expertise to craft a visually appealing and user-friendly website that aligns with your brand identity. Professionals understand the importance of responsive design, ensuring that your site performs optimally across various devices and screen sizes. Moreover, they have the technical know-how to implement search engine optimization (SEO) best practices, which can improve your website's visibility in search results and drive more organic traffic. By collaborating with a Westlake Village web design professional, you can create a compelling online presence that effectively communicates your brand's message and helps achieve your business objectives.
For example, a pet groomer in Westlake Village could work with a professional web designer to create a modern website that makes a strong first impression and effectively showcases their grooming services. The web designer would craft a visually appealing layout that highlights the pet groomer's unique selling points, such as their expertise, range of services, and dedication to pet care. High-quality images of well-groomed pets, brand colors, testimonials from satisfied clients, and an intuitive navigation menu would be incorporated into the design.
To enhance user experience, the professional would ensure that the website is responsive and mobile-friendly, adapting seamlessly to different devices and screen sizes. The web designer would also implement SEO best practices, making it easier for potential clients in Westlake Village to discover the pet groomer's services through search engines. With a modern, professionally designed website, the pet groomer can create a strong first impression, effectively communicate their value proposition, and attract more customers in the Westlake Village area.
Professional web design significantly impacts business owners by providing them with a visually appealing and user-friendly online presence that effectively engages visitors and drives conversions. While it is difficult to pinpoint an exact average ROI, a well-designed website generally contributes to increased brand recognition, customer retention, and higher conversion rates, resulting in a positive return on investment and long-term business growth.
FAQs
---
What are the 4 types of digital marketing?
The four primary types of digital marketing are Search Engine Optimization (SEO), which improves your online presence on search engines; Content Marketing, focusing on creating and distributing valuable content; Social Media Marketing, which utilizes social media platforms to engage with your audience; and Pay-Per-Click (PPC) advertising, where you pay for each click on your ads.
Is SEO worth it in 2023?
Yes, SEO remains a valuable strategy in 2023. With internet usage consistently growing, having an optimized online presence is crucial. SEO helps in attracting organic traffic, building brand visibility, and achieving higher rankings on search engines, which is essential for the long-term success and credibility of any business or website.
Are digital ads worth it?
Digital ads are worth it when executed properly. They offer precise targeting, which means your ads reach the right audience. They're also cost-effective compared to traditional advertising, and provide detailed analytics to evaluate and optimize performance. This enables businesses to maximize ROI and make data-driven decisions.
Should I pay for social media marketing?
Paying for social media marketing can be beneficial as it can significantly expand your reach and target specific demographics more accurately. It's especially effective for brand building, customer engagement, and driving traffic to your site. It's important to ensure that the content is high-quality and that campaigns are monitored and optimized for performance.
What does a social media marketing agency do?
A social media marketing agency helps businesses create and manage their presence on social media platforms. This includes developing a social media strategy, creating and posting content, engaging with the audience, running paid advertising campaigns, and analyzing data to optimize performance. They focus on building brand awareness, generating leads, and driving traffic.
Is it worth it to hire a marketing agency?
Hiring a marketing agency can be worth it if you lack the in-house expertise or resources to effectively manage your marketing efforts. Agencies bring specialized skills and experience and have access to tools and resources that can significantly improve your marketing performance. They can also provide fresh perspectives and insights into market trends.
How do marketing agencies charge?
Marketing agencies typically charge in several ways including hourly rates, project-based fees, retainer fees, or a percentage of ad spend. The choice depends on the scope and nature of the project. For instance, for a one-time project, a project-based fee might be appropriate, while an ongoing marketing campaign might work best with a retainer or percentage of ad spend.
PARTNER WITH A TOP WESTLAKE VILLAGE, CA INTERNET MARKETING COMPANY
---
When it comes to choosing your Westlake Village Internet marketing company, you want to partner with a team that brings the experience and knowledge needed to drive results. At Sachs Marketing Group, we have over 13 years of experience running digital marketing campaigns that drive results.
If you're ready to jump-start your campaign, contact us for a free quote or call us today at 818-889-3232 to schedule a consultation with Eric Sachs to learn how our digital marketing services can help you achieve your goals.