Thousand Oaks SEO Company
---
Looking for a Thousand Oaks SEO company you can trust to increase rankings, traffic, and leads?
Sachs Marketing Group is a Thousand Oaks SEO agency that offers data-driven SEO strategies tailored to increase your rankings, drive more traffic, and help generate qualified leads.
Just in the past three years, we've helped our clients use strategies like SEO to generate over 70,000 leads – and we're ready to help your business do the same.
If you want to improve the visibility of your website in search engines and attract more leads, we can help. Call 818-889-3232 to schedule a call with Eric Sachs and discover how our Thousand Oaks SEO company can help your business.
Identify Your Keywords
Our SEO team analyzes your competitors and data from search engines to identify the keywords that need to appear on your website in order to rank effectively and attract potential customers.
Optimize Your Website
We strategically incorporate your target keywords into your website's content, titles, and meta descriptions, ensuring each page is in the best possible position to rank for their respective keywords.
Increase Your Visibility
We closely monitor how your website appears in search engines and build backlinks strategically in an effort to increase the visibility of your website pages and website as a whole.
Generate More Traffic
We create data-driven SEO content optimized to align with the keywords your customers use when searching the web for information that relates to the products or services your company offers.
SACHS MARKETING GROUP IS A TOP SEO COMPANY IN THOUSAND OAKS
---
Founded by SEO expert Eric Sachs in 2010, Sachs Marketing Group has become one of the most trusted SEO agencies in Thousand Oaks, California. With over a decade of experience providing SEO services in Thousand Oaks, you can rest assured you're working with the best in the business.
We deliver on our promises, prioritize client retention, provide transparency, and use modern strategies, tactics, and tools to achieve the results that help our clients thrive.
In 2022, we helped drive 30,245 leads!
Discover how partnering with Sachs Marketing Group and SEO services can help your business today! Contact us online or call 818-889-3232 to schedule a call with Eric Sachs.
Local SEO
We provide expert local SEO in Thousand Oaks. Through data-driven SEO strategies, we help optimize your website and business listings to ensure it stands out among your competitors in local search engine results, it appears prominently on maps, and attracts more local customers.
On-page SEO
We'll optimize every page on your website! This process involves identifying the most beneficial keywords, optimizing the content on the page, and optimizing the code that powers the page. This helps increase your relevance, rankings, and overall visibility in search engines.
Off-page SEO
Our strategic approach to off-page SEO ensures your website not only attracts backlinks from high-quality websites but also attracts the backlinks your website needs in order to outrank the competition. We also keep an eye out for toxic backlinks and maintain your disavow list.
Technical SEO
Our meticulous approach to technical SEO ensures your website is fully optimized and passes search engine performance tests. We make sure your website is lightning-fast, free of errors, mobile-friendly, secure, and provides structured data behind the scenes.
LOCAL SUCCESS
Our clients trust Sachs Marketing Group as the #1 SEO company in Thousand Oaks because we not only prioritize transparency, provide dependable support, and focus on client retention, but because we drive results that help increase leads, sales, and revenue.
Sachs Marketing Group in Thousand Oaks
950 Hampshire Rd. Suite 104
Westlake Village, CA 91361
818-889-3232
WHY PARTNER WITH SACHS MARKETING GROUP FOR
EXPERT SEO HELP IN THOUSAND OAKS?
---
You want to make sure you find an SEO company that has a proven track record of success, a great reputation, and the resources to handle all your needs. If you're looking for an award-winning agency with a solid reputation, case studies, and a focus on client support, look no further than Sachs Marketing Group.
Transparency
We provide transparent expectations and reporting so you never feel like you're in the dark. We aim to develop positive relationships with our clients, and we believe providing transparency helps you make more informed decisions.
Satisfaction
We deliver on our promises, provide results, and prioritize client satisfaction in every way possible. We've never had a complaint, dispute, or credit card chargeback regarding our services or pricing, and continue to attract 5-star reviews.
Commitment
We're committed to your SEO campaign as a partner. Your success is our success! We focus on client retention, not client acquisition. That's why our very first client from 13+ years ago still trusts us with their campaign.
Expertise
Gain access to a team of SEO experts that can help strategize, launch, and manage your campaign. Our team specializes in various areas of SEO, including on-page SEO, local SEO in Thousand Oaks, technical SEO, and more.
Support
Whether there's an urgent matter in need of attention, you have a question, or just want to chat, Sachs Marketing Group provides responsive communication and support needed to move forward quickly.
Experience
From small start-ups and family-run mom-and-pop shops to Fortune 500 companies and the military, Sachs Marketing Group has a wide range of experience working with a variety of companies.
Synergy
Our team of SEO experts will collaborate with your team to create the synergy needed to keep things running smoothly. We also collaborate internally to ensure we're all on the same page regarding focus, news, and potential adjustments.
Knowledge
Our team of experts keeps its fingers on the pulse of the SEO world so you don't have to. This ensures we're aware of the latest algorithm changes from search engines, able to deploy new data-driven SEO tactics, and practice modern SEO.
RATINGS & REVIEWS
---
Don't take our word for it! Explore our latest ratings and reviews to discover why business owners trust Sachs Marketing Group for their SEO services.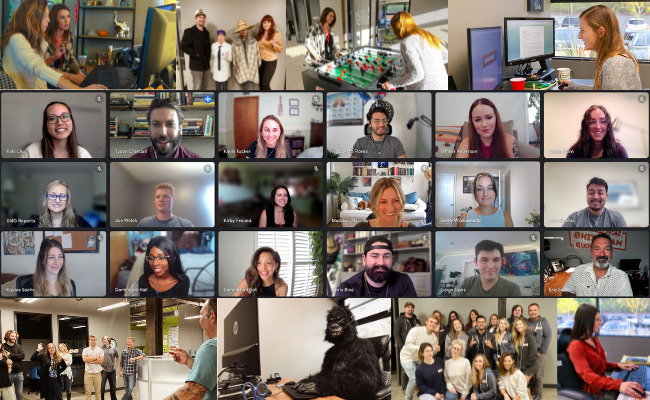 HOW CAN SACHS MARKETING GROUP HELP YOU?
We provide comprehensive SEO services designed to enhance your website's visibility and drive the type of traffic that helps generate more leads. Whether you want to amplify your local visibility or increase your national reach, our SEO services can help you achieve your goals.
Our team of in-house SEO experts can help create, launch, and manage an SEO strategy that helps increase your rankings, traffic, and leads.
818-889-3232
INVEST IN YOUR SEO AND INCREASE YOUR
RANKINGS, TRAFFIC, AND LEADS
---
Are you struggling to increase your website's visibility and generate more leads? Wondering why local SEO is important for your business? Sachs Marketing Group can help.
Our comprehensive local SEO services in Thousand Oaks are specifically designed to improve your website's rankings on search engines, which helps increase traffic and, in turn, more people contacting your business. We employ modern SEO strategies in on-page and off-page optimization, keyword research, and high-quality content creation.
Imagine the growth your business could experience with a prominent online presence. Increased website traffic, better quality leads, and improved conversions - all leading to heightened business success.
Contact Sachs Marketing Group today to start your journey towards dominating the search engine results and achieving your business goals.
100% Client Satisfaction Score
Industry average: 69% (2023)
"We've been through a lot of digital agencies and can say that Sachs Marketing Group is the best in the business. Over the years, Eric and his team have been instrumental to our company's growth." – Kaveen
SEO AUDIT
---
An SEO audit is an exhaustive examination of a website's performance in relation to search engine rankings. This hands-on and maticukous process scrutinizes multiple dimensions of a website, including but not limited to, its structure, content quality, backlinks, page load speed, mobile responsiveness, and other technical aspects. Essentially, an SEO audit assesses how well a website is optimized for search engines and identifies any existing issues that may be hindering its search performance.
An SEO audit is a critical first step in devising an effective SEO strategy for multiple reasons. We start every new SEO project with an SEO audit because it helps us develop a comprehensive understanding of the current state of a website's SEO, acting as a baseline to measure future progress. It also helps identify weaknesses and areas for improvement, uncovering both technical issues and content gaps that might be impeding visibility in search engines.
It also reveals strengths that can be leveraged for better performance, such as high-quality content or well-optimized pages. We use these insights to create a highly tailored, results-driven SEO strategy for our clients.
With the rapid evolution of search algorithms, regular SEO audits ensure that a website remains compliant with the latest SEO best practices, reducing the risk of penalties and maintaining a strong online presence. In essence, an SEO audit paves the way for informed decision-making, goal-setting, and strategic planning in an SEO campaign.
KEYWORD RESEARCH
---
Keyword research is a fundamental aspect of SEO that involves identifying and analyzing the words and phrases that people enter into search engines. This process provides insights into the search queries your target audience is using to find products, services, or information similar to what your business offers.
The primary purpose of keyword research is to understand the language of your prospective customers, and by extension, align your content and SEO strategy with their needs and search behaviors. This alignment facilitates better visibility in search engines, driving more targeted traffic to your website.
Moreover, keyword research helps identify high-volume, low-competition keywords (often termed "long-tail" keywords) that can be easier to rank for. These keywords often have a lower search volume but higher conversion rates due to their specific nature.
Beyond immediate SEO purposes, keyword research offers valuable market insights. It sheds light on trending topics, evolving market demands, and consumer pain points, enabling businesses to refine their offerings, develop compelling content, and stay competitive. Therefore, keyword research is not just a tool for optimizing search engine visibility; it's a strategic instrument for business growth and customer engagement.
COMPETITIVE ANALYSIS
---
Competitive analysis in the context of SEO involves the systematic investigation of your rivals' SEO strategies to understand their strengths, weaknesses, and tactics. This process not only uncovers the keywords, content strategies, and backlink profiles they're leveraging but also reveals their overall online visibility and search performance.
A comprehensive competitive analysis offers critical insights that can inform and enrich your own SEO strategy. For instance, identifying the keywords your competitors rank for can help you broaden your own keyword strategy, targeting terms you might not have considered initially. Likewise, understanding their backlink profile can guide your link-building efforts, identifying potential sources of high-quality backlinks.
Moreover, assessing your competitors' content strategies can offer inspiration and reveal gaps that your own content can fill, providing value to your audience and differentiating your brand. Furthermore, analyzing their site structure, user experience, and technical SEO practices can present opportunities for you to improve your own website, enhancing its search performance.
Importantly, regular competitive analysis helps you stay abreast of changes in your industry's digital landscape. As search algorithms evolve and competitors adjust their strategies, maintaining a clear understanding of your competitive environment ensures your SEO strategy remains responsive and effective. This process is not about copying your competitors but rather about learning, adapting, and continually striving to outrank them in the search engine results pages (SERPs).
ON-PAGE SEO
---
On-page SEO, also known as on-site SEO, refers to the practice of optimizing individual web pages on a website to rank higher and attract more relevant traffic in search engines. This strategy focuses on elements that are directly within the site owner's control and can be manipulated and improved over time.
Key aspects of on-page SEO include optimizing title tags, meta descriptions, and URL structures for targeted keywords. It also involves ensuring that the website's content is high-quality, relevant, and provides value to the user, while simultaneously incorporating targeted keyword phrases in a natural and user-friendly manner.
Other on-page factors include the use of header tags (H1, H2, H3, etc.) to structure content and make it easily digestible for both users and search engines. Alt tags for images, internal linking, and the overall site architecture also play crucial roles.
Moreover, technical components of on-page SEO, like site speed, mobile-friendliness, and secure HTTPs protocols, are increasingly important due to their significant impact on user experience. Search engines like Google prioritize websites that offer users a seamless, efficient, and safe browsing experience, making these elements vital for good on-page SEO.
Overall, on-page SEO is a foundational aspect of SEO strategy that contributes to the visibility, usability, and credibility of a website. It's about ensuring your website is search-engine friendly, user-friendly, and content-rich, aligning with both search engine algorithms and user expectations.
OFF-PAGE SEO
---
Off-page SEO refers to optimization strategies implemented outside the boundaries of a website with the goal to enhance its visibility and credibility in the digital landscape. It involves a variety of practices primarily centered around building a strong network of high-quality backlinks, fostering social media engagement, and garnering positive brand mentions across the internet.
The backbone of off-page SEO is link building, where the focus is to earn authoritative, relevant links from other websites. These backlinks signal to search engines the credibility and value of your website, influencing its ranking in the search results. This process might include tactics like guest blogging, influencer outreach, broken link building, or creating high-quality, shareable content that naturally attracts links.
Besides backlinks, off-page SEO also entails social media marketing and influencer engagement, which increase brand visibility and recognition. Likewise, earning positive reviews, participating in relevant online communities, and gaining citations also form a part of off-page SEO.
While off-page SEO might seem challenging due to its reliance on third-party websites, it's an integral part of SEO strategy. It not only improves a website's position in search engine result pages (SERPs) but also enhances its domain authority, trustworthiness, and overall online reputation. Effective off-page SEO tactics result in higher rankings, more website traffic, and increased brand visibility, making it a crucial aspect of holistic SEO strategy.
TECHNICAL SEO
---
Technical SEO is a fundamental aspect of search engine optimization that focuses on improving a website's backend structure and foundation. It encompasses the techniques and elements that communicate to search engines how your site is configured, ensuring that they can efficiently crawl, interpret, and index your website's content.
Technical SEO incorporates several facets, including site speed optimization, a crucial determinant of user experience and search engine rankings. In the age of mobile browsing, responsiveness is another crucial factor; a website must display correctly and offer a seamless user experience across all devices.
Another significant area within technical SEO is site architecture, including proper use of robots.txt files and XML sitemaps, which guide search engines in understanding and navigating your website's structure. URL structuring, the use of canonical tags to prevent duplicate content issues, and implementing structured data (Schema markup) to enhance SERP visibility are other important aspects.
Furthermore, ensuring website security through HTTPS protocols has become a non-negotiable aspect of technical SEO, as search engines prioritize secure websites to provide a safe browsing experience for users.
Overall, technical SEO lays the groundwork for a site to achieve and maintain high rankings by making it easy for search engines to crawl and understand, while providing a superior user experience.
CONTENT CREATION & OPTIMIZATION
---
Content creation and optimization is a pivotal aspect of SEO that involves developing high-quality, relevant content that both appeals to your audience and is favorably indexed by search engines. This process begins with extensive keyword research to identify phrases and terms that your target audience uses when seeking the products or services you offer. The resulting insights inform the creation of engaging, informative content that effectively answers users' queries and meets their needs.
The process doesn't end with content creation. Each piece of content should be optimized for SEO, which entails using your identified keywords strategically within the content, crafting compelling meta descriptions and title tags, using relevant tags, and structuring content to facilitate easy reading and navigation.
Additionally, content optimization includes the proper use of images, videos, and other media files. These elements should be appropriately tagged and compressed for speedy loading, which contributes to user experience, a factor that search engines consider when ranking pages.
Creating and optimizing content is an ongoing process. The web is dynamic, and user preferences change. Therefore, existing content must be reviewed and updated periodically to maintain its relevance and effectiveness. This iterative process, guided by performance data and user feedback, helps ensure your content continues to attract, engage, and convert your target audience while meeting search engine standards for visibility.
LOCAL SEO
---
Local SEO, as the name suggests, focuses on improving a business's visibility in local search results on search engines. It is an essential strategy for businesses that operate in a specific geographic area and want to attract customers from that locale. This could range from a small coffee shop wanting to lure the morning crowd, to a law firm targeting potential clients in a particular city.
The importance of local SEO has increased significantly with the rise in mobile search and on-the-go browsing. When users search for services "near me" or with a specific location in mind, search engines prioritize displaying local businesses in the search results.
Local SEO involves optimizing your online presence to ensure search engines understand your business's location and what you offer. This includes managing your business's online directories and citations to ensure accuracy, gathering positive customer reviews, optimizing your website and content for local keywords, and ensuring your website is mobile-friendly.
A well-executed local SEO strategy can lead to increased foot traffic, higher sales, and improved online visibility within your targeted area. It allows businesses to compete with larger brands by leveraging their locality and building relationships with local customers. In essence, local SEO is a powerful tool that enables small and medium businesses to punch above their weight in the digital space.
SEO REPORTING
---
SEO reporting is a crucial aspect of any SEO campaign, serving as the communication bridge between an SEO agency and its clients. It involves the collection, analysis, and presentation of data related to a website's SEO performance. This data can encompass a variety of key performance indicators (KPIs), such as organic traffic, keyword rankings, bounce rate, click-through rate (CTR), conversion rate, and more.
The importance of SEO reporting is multi-faceted. For one, it enables the measurement of the success or progress of an SEO campaign, by providing tangible evidence of improvements or changes in a website's search engine rankings and visibility. Additionally, it helps identify trends, patterns, and insights that can guide future SEO strategies and actions. For instance, if a certain type of content is attracting more organic traffic, it may be worth creating more of the same.
SEO reporting also fosters transparency and accountability. Clients can see exactly where their investment is going, what results are being achieved, and how their goals are being met. Furthermore, regular SEO reporting allows for proactive adjustments to the strategy, ensuring that the campaign stays on track in the dynamic world of SEO. Lastly, SEO reporting aids in aligning SEO efforts with broader business objectives, demonstrating the value and ROI of SEO to stakeholders. In essence, it's a critical tool for both managing and showcasing the effectiveness of SEO initiatives.
FAQs
---
Is it worth paying an SEO company?
Yes, investing in an SEO company is typically worth it. SEO experts provide essential services like site optimization, keyword research, and backlink strategy that can significantly improve your website's visibility, drive organic traffic, and boost conversions. With their industry knowledge and tools, they offer a long-term solution for sustained online growth, often providing a robust return on investment.
What is an SEO service company?
An SEO service company is a professional agency specializing in Search Engine Optimization. They utilize a variety of techniques to enhance a client's website visibility on search engines like Google. Their services typically include keyword research, on-page and off-page optimization, technical SEO, link building, content creation, and SEO reporting, with the ultimate goal of increasing organic traffic, improving search rankings, and driving conversions.
How do I know if my SEO company is doing a good job?
You can evaluate the performance of your SEO company through several indicators. These include improved organic traffic, higher search engine rankings, an increased number of quality backlinks, and more conversions from SEO efforts. Regular and transparent SEO reports detailing these metrics and how they align with your business goals are also a good sign of an effective SEO company.
PARTNER WITH THE BEST SEO IN THOUSAND OAKS
---
If you're looking for the best SEO in Thousand Oaks that you can trust as a partner, you want to partner with a team that brings the experience and knowledge needed to drive results. At Sachs Marketing Group, we've been helping small and medium-sized businesses in TO for over a decade.
Contact us for a free quote or call us today at 818-889-3232 to schedule a time to talk with Eric Sachs about your business, your goals, and how our Thousand Oaks SEO company can help.